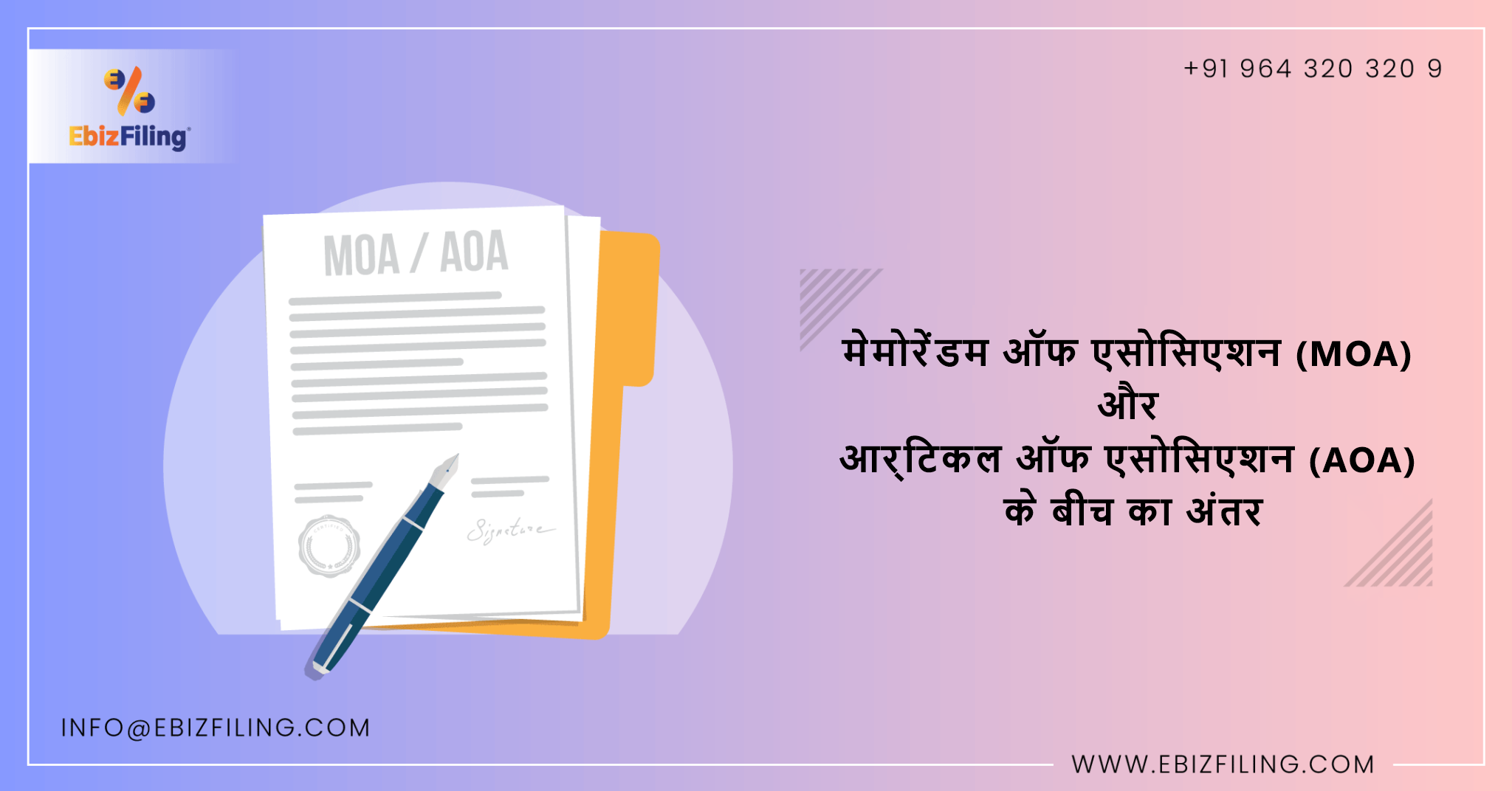 मेमोरेंडम ऑफ एसोसिएशन (MOA) और आर्टिकल ऑफ एसोसिएशन (AOA) के बीच का अंतर
समझौता ज्ञापन और संस्था के अंतर्नियम में क्या अंतर है !
परिचय
प्रत्येक उद्यमी एक कंपनी शुरू करने के पहले कदम की प्रतीक्षा करता है, जो एक कंपनी को पंजीकृत करके कानूनी पहचान स्थापित कर रही है। कंपनियां कानूनी दस्तावेजों द्वारा शासित होती हैं जो यह बताती हैं कि कंपनी क्या कर सकती है और क्या नहीं। मेमोरेंडम ऑफ एसोसिएशन (एमओए) और आर्टिकल्स ऑफ एसोसिएशन (एओए), एक फर्म के संचालन और आंतरिक प्रबंधन के दायरे की रूपरेखा तैयार करते हैं। यह प्राइवेट लिमिटेड कंपनी पंजीकरण के लिए महत्वपूर्ण दस्तावेज संरचनाओं में से एक है। मेमोरेंडम ऑफ एसोसिएशन और आर्टिकल्स ऑफ एसोसिएशन के बीच अंतर
MOA (मेमोरेंडम ऑफ एसोसिएशन)
कंपनी पंजीकरण के लिए मेमोरेंडम ऑफ एसोसिएशन महत्वपूर्ण दस्तावेजों में से एक है। कंपनी जिन सभी गतिविधियों में संलग्न है, उन्हें एमओए के तहत उल्लेखित करने की आवश्यकता है। सरल शब्दों में, मेमोरेंडम ऑफ एसोसिएशन कंपनी, उसकी गतिविधियों और शेयरधारकों के साथ उसके संबंधों के बीच एक सेतु का निर्माण करता है। कंपनी केवल उन्हीं कार्यों को करने के लिए उत्तरदायी है जिनका एमओए में उल्लेख किया गया है।
मेमोरेंडम ऑफ एसोसिएशन में निम्नलिखित खंड शामिल हैं:
नाम खंड – कंपनी से संबंधित सभी जानकारी, एक लेख के शीर्ष पर एक कंपनी का नाम, चाहे कोई कंपनी एलएलपी हो या पब्लिक लिमिटेड, उद्योग जिसमें कंपनी अपना कामकाज जारी रखती है, का उल्लेख किया जाना चाहिए।
लायबिलिटी क्लॉज – इस क्लॉज में कंपनी में मेंबर लायबिलिटी के बारे में सारी जानकारी होती है, अगर कोई कंपनी अनलिमिटेड लायबिलिटी के तहत रजिस्टर्ड है तो कंपनी इस क्लॉज को छोड़ सकती है।
स्थिति खंड – इस खंड में कंपनी के पंजीकृत कार्यालय के बारे में जानकारी का उल्लेख किया गया है, किसी भी मामले में, यदि कंपनी अपना पंजीकृत कार्यालय बदलती है तो उसे खंड में अद्यतन करने की आवश्यकता है।
पूंजी खंड – यह खंड एक निगम द्वारा जुटाई जा सकने वाली पूंजी की अधिकतम राशि, साथ ही शेयरों के वितरण का आवंटन स्थापित करता है। शेयरधारकों को दिए गए विशेषाधिकार और अधिकार पूंजी खंड में उल्लिखित हैं।
वस्तु खंड – यह खंड कंपनी के गठन का कारण स्थापित करता है। यह आम तौर पर बदला या बदला नहीं जाता है। नतीजतन, इस खंड का डिजाइन काफी महत्वपूर्ण है और इसे सावधानी और ज्ञान के साथ किया जाना चाहिए। निगम को किसी भी गतिविधि में शामिल होने से प्रतिबंधित किया गया है जो एमओए के ऑब्जेक्ट क्लॉज द्वारा कवर नहीं किया गया है। इस तरह के कृत्यों को अल्ट्रा वायरस (क्षमताओं से परे) के रूप में संदर्भित किया जाता है और सदस्यों द्वारा इसकी पुष्टि नहीं की जाती है।
सदस्यता खंड – इस खंड में प्रारंभिक ग्राहकों के नाम, पते और संपर्क जानकारी शामिल है। प्राइवेट लिमिटेड व्यवसाय बनाने के लिए कम से कम दो लोगों की आवश्यकता होती है। एक पब्लिक लिमिटेड कंपनी में कम से कम सात सदस्य होने चाहिए। इन ग्राहकों को कम से कम एक शेयर लेना आवश्यक है।
एओए (आर्टिकल्स ऑफ एसोसिएशन)
यह एक पूरक दस्तावेज है जो संगठन के आंतरिक कामकाज के साथ-साथ उनके प्रबंधन, अधिकारों और जिम्मेदारियों को परिभाषित करता है। इसमें कंपनी के उप-नियमों के साथ-साथ अन्य नियम और विनियम शामिल हैं। AOA की सामग्री एमओए और कंपनी अधिनियम के अनुरूप है।
इन क्षमताओं को एक कंपनी द्वारा त्याग नहीं किया जा सकता है। उन मुद्दों को संबोधित करने के लिए लेख को बदला जा सकता है जिनके बारे में ज्ञापन चुप है। इसके लिए बदलाव करने के लिए एक विशेष संकल्प की जरूरत है।
आर्टिकल्स ऑफ एसोसिएशन में निम्नलिखित खंड शामिल हैं
एक कंपनी के शेयरों से संबंधित जानकारी – रूपांतरण, हस्तांतरण, शेयरों की जब्ती से संबंधित विस्तृत जानकारी में। पूरी तरह से भुगतान किए गए शेयरों और न्यूनतम सदस्यता के रूपांतरण के संबंध में नियम।
निदेशक के कर्तव्यों, अधिकार और निष्कासन की जानकारी – इन दस्तावेजों में कर्तव्यों, शक्तियों और नियुक्तियों से संबंधित विस्तृत जानकारी है। इसके अलावा निदेशक मंडल के निदेशकों को हटाने की प्रक्रिया और उधार लेने के अधिकार के बारे में जानकारी दी।
बैठकें और होल्डिंग्स आयोजित करने की जानकारी – नोटिस भेजना, बैठकें आयोजित करना और कार्यवृत्त बनाए रखना विस्तार से वर्णन करता है। प्रॉक्सी, वोटिंग अधिकार और निदेशक के वोटों के आवश्यक प्रतिशत से संबंधित नियमों का उल्लेख किया जाएगा।
कंपनी के समापन के नियम और प्रक्रिया – यदि यह कंपनी के सर्वोत्तम हित में है, तो लेखों में परिवर्तन किया जा सकता है। हालांकि, यह किसी तीसरे पक्ष के समझौते के साथ विरोध नहीं करना चाहिए। यह एक विशेष प्रस्ताव पारित करके और प्रस्ताव के पारित होने के 30 दिनों के भीतर रजिस्ट्रार के पास एक प्रति दाखिल करके किया जाता है। इस तरह के बदलाव से मौजूदा सदस्यों की देनदारियों में किसी भी तरह से वृद्धि नहीं होनी चाहिए।
मेमोरेंडम ऑफ एसोसिएशन और आर्टिकल्स ऑफ एसोसिएशन के बीच अंतर
1. एमओए कंपनी के अधिनियम की सहायक कंपनी है, जबकि एओए कंपनी के अधिनियम और एमओए की सहायक कंपनी है।
2. एमओए में कंपनी के बारे में सभी बुनियादी जानकारी होती है, जबकि एओए में कंपनी द्वारा शासित नियमों और अधिकारों से संबंधित जानकारी होगी।
3. मेमोरेंडम ऑफ एसोसिएशन में एक 6 क्लॉज होता है जिसे कंपनी को भरना होता है। दूसरी ओर, कंपनी की वरीयता के आधार पर एसोसिएशन के लेख तैयार किए जा सकते हैं।
4. सभी कंपनी को एमओए के साथ उपकृत करने की आवश्यकता है, जबकि एओए केवल प्राइवेट लिमिटेड कंपनी के लिए अनिवार्य है।
5. कंपनी को पंजीकृत करते समय एमओए की आवश्यकता होती है, एओए में ऐसी कोई शर्त नहीं होती है
6. यदि एमओए में किसी गतिविधि का उल्लेख नहीं है तो इसे पूर्ण शून्य माना जाता है, एओए के मामले में यदि शेयरधारकों ने गतिविधि को मंजूरी दी है तो यह किया जा सकता है।
निष्कर्ष
कंपनी का मेमोरेंडम ऑफ एसोसिएशन और आर्टिकल्स ऑफ एसोसिएशन दो अत्यधिक महत्वपूर्ण दस्तावेज हैं जिन्हें अद्यतित रखा जाना चाहिए क्योंकि वे विभिन्न समस्याओं में कंपनी को नियंत्रित करते हैं। वे अपने पूरे जीवनकाल में व्यवसाय के कुशल प्रबंधन और संचालन में भी सहायता करते हैं।
About Ebizfiling -
EbizFiling is a concept that emerged with the progressive and intellectual mindset of like-minded people. It aims at delivering the end-to-
end incorporation, compliance, advisory, and management consultancy services to clients in India and abroad in all the best possible ways.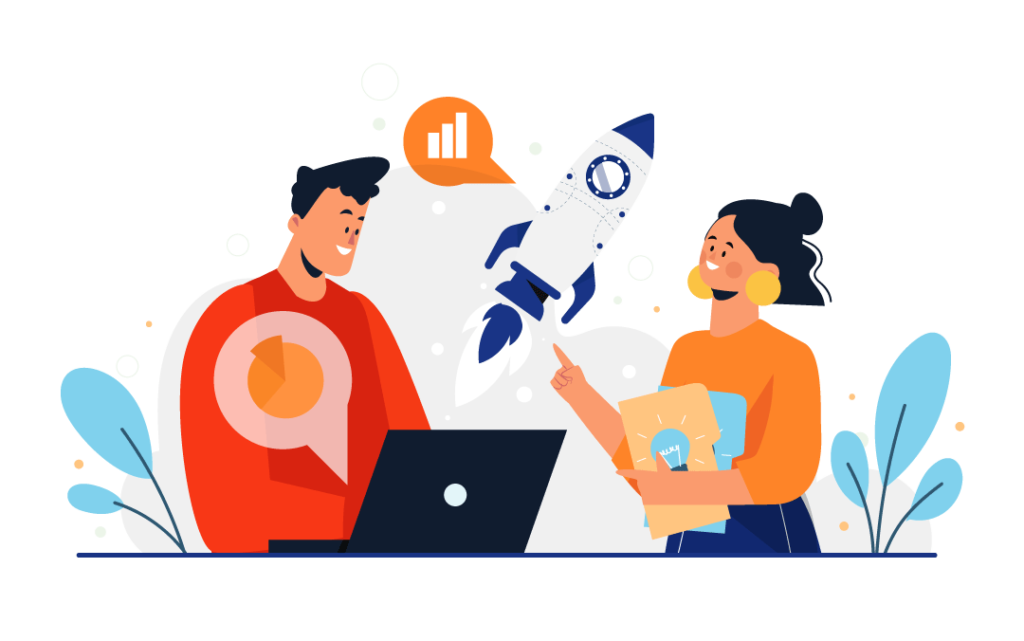 Reviews
Ebizfiling India pvt ltd is leading account services provider across the country. They have a very good and genuine staff. They give all the services in given time frame. My two company's accountability done by this firm. Awesome service ..!

am very much satisfied with the services of Ebizfiling. They have completed registration of my private limited company in less than a week..they are very fast and very professional specially Vaishali ...I will recommend Ebizfiling to all who wants fast and reliable services