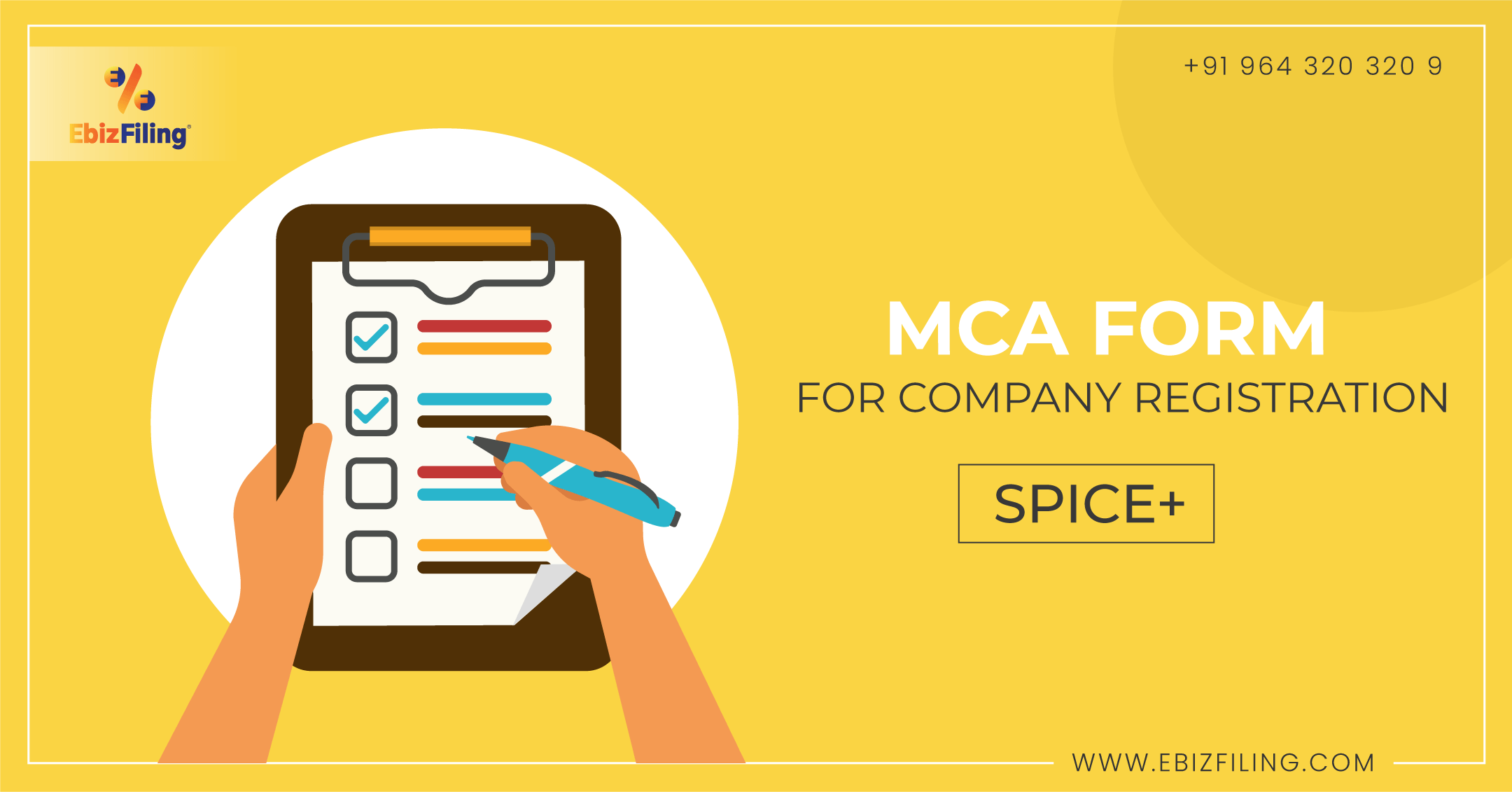 New MCA form for Company registration- SPICe+
New MCA form for Company registration- SPICe+
What is SPICe form?
The application for incorporation of a company whether it is a private limited company, Public Limited Company, One Person Company, Nidhi Company, Section 8 Company or Producer Company is filed to mca at present by way of uploading a pdf form known as Spice Form. 
Earlier the news came that the Ministry of Corporate Affairs to simplify the norms, will unveil two new forms in a month, Now in January 2020 The Ministry of Corporate Affairs (MCA), notified to issue new form SPICe Plus as a part of India's Ease of Doing Business initiatives. 
The new form which is named as Spice Plus or Spice + shall be a replacement of the old system of uploading the pdf file. That means the existing pdf version of the spice 32 form shall be discontinued with the launch of the new web-based SPICe plus Form. 
What is MCA Form SPICe+ ?
SPICe+ would be an integrated Web form offering multiple services viz. name reservation, incorporation, DIN allotment, mandatory issue of PAN, TAN, EPFO, ESIC, Profession Tax (Maharashtra) and Opening of Bank Account. It will also facilitate allotment of GSTIN wherever so applied for by the Stakeholders. After deployment of SPICe plus web form, RUN shall be applicable only for change of name of existing companies.
Difference between SPICe INC 32 and SPICe plus:
SPICe or Form INC-32 can help incorporate a company with a single application for:
Reservation of name

Incorporation of a new company and/or

Application for allotment of DIN.
SPICe+ can help incorporate a company with a single application for:
Name reservation

Incorporation

DIN

allotment

Mandatory issue of

PAN

TAN

EPFO

Profession Tax (Maharashtra)

Opening of Bank Account.
The Government clarified the proposed features of SPICe+ form
Stakeholders may please note that as part of Government of India's Ease of Doing Business(EODB) initiatives, the Ministry of Corporate Affairs would be shortly notifying & deploying a new Web Form christened 'SPICe+' (pronounced 'SPICe Plus') replacing the existing SPICe form.

Upon notification & deployment, all new name reservations for new companies as well as new incorporations shall be applied through SPICe plus only.

However, incorporation of companies for names reserved through the existing RUN service shall continue to be filed in the existing SPICe eform along with related linked forms as applicable and if marked under resubmission shall be resubmitted in SPICe form.

Resubmission of SPICe forms submitted prior to date of deployment of SPICe plus web form shall also be filed in the existing SPICe eform and related linked forms as applicable.
Know more: SPICe+ Form for Company Registration 
The Government further clarified that:
Due to the proposed changes to the RUN web service (for companies), Resubmission Option for name reservation shall not be available from 1st Feb 2020 onwards for approximately 15 days.

After 01 Feb 2020, stakeholders are advised to either await deployment of SPICe plus and then apply for names through SPICe plus web form or perform due diligence while submitting any application in existing RUN web service for name reservation. 

RUN applications (for companies) filed w.e.f 1st February 2020 onwards shall either be approved or rejected based on checks performed by CRC officers. Stakeholders may kindly note and plan accordingly.
Read: Union Budget 2020- Live News & Updates
Conclusion
The government's measures over the last few years have greatly accelerated the process of company formation. Their goal of a smooth and quick treatment is slowly becoming a reality. Previously, this was a time-consuming procedure that required months of toil and effort.
However, by utilizing technology to its full potential, a firm can now be formed in a matter of days, allowing millions of aspirations to become a reality in an instant.
About Ebizfiling -
EbizFiling is a concept that emerged with the progressive and intellectual mindset of like-minded people. It aims at delivering the end-to-
end incorporation, compliance, advisory, and management consultancy services to clients in India and abroad in all the best possible ways.
Reviews
Excellent service by your team really like your service a lot specifically client handling is too good and special credit to my manager Dhwani mam you have given your best thank you so much for your kindness and supporting beahavior. I will surely give reference for your company.

I was new as an Entrepreneur when I had seen their post on social media. I contacted them regarding proprietorship and realized they their pricing is incomparable in the market also their services are really prompt. Thank you, Ebizfiling.

Ebizfilling.com is one of its kind of organization, believe me guys their working process is very smooth. I had an awesome experience regarding MSME certification. Thank you Kushani & Mansi for your wonderful efforts. Kudos Ebizfiling, you are doing great keep doing it.